Zimbabwe's incoming leader Emmerson Mnangagwa has been sworn in, beginning a new era for the long-troubled nation.
Mr Mnangagwa promised to devote himself to the well-being of the people, to cheers from tens of thousands present at the 60,000-seat stadium in Harare.
He succeeds Robert Mugabe, who resigned on Tuesday under immense pressure from the military, the ruling party and the people amid fears his wife was trying to take power.
Mr Mnangagwa was Mr Mugabe's longtime ally before his firing earlier this month. He will serve until the end of the presidential term next year. An election date has not yet been set.
A smiling Mr Mnangagwa greeted the crowd with a raised fist. The military, fresh from putting Mr Mugabe under house arrest just days ago, quickly swore its loyalty to the new leader.
Mr Mnangagwa, a former justice and defence minister, was a key confidant of Mr Mugabe's for decades until they fell out because of the presidential ambitions of Mr Mugabe's wife, Grace.
Despite his long association with the government that has presided over Zimbabwe's decline, including economic collapse and human rights abuses, Mr Mnangagwa has promised democracy and reached out to other countries for help.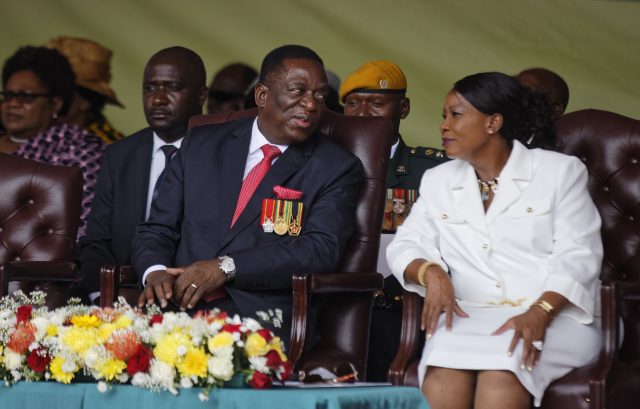 Mr Mugabe, one of Africa's last remaining liberation leaders, quit on Tuesday amid impeachment proceedings. In the end, he was isolated and showing few of the political skills that kept him in power for 37 years and made him a prominent but polarising figure on the world stage. He had led since Zimbabwe's independence from white minority rule in 1980.
Mr Mugabe did not attend Friday's swearing-in, and ruling party officials have said he will remain in Zimbabwe with their promise that he is "safe" and his legacy as a "hero" will stand after his fight for an independent Zimbabwe.
Zimbabwe's state-run Herald newspaper reported that Mr Mnangagwa assured Mr Mugabe and his family of their "maximum security". The report said the two men agreed Mr Mugabe would not attend on Friday because he "needed time to rest".
Some people ahead of the inauguration began to dance in the stadium stands. Banners read "Dawn of a new era" and "No to retribution", even as human rights activists began to report worrying details of attacks on close allies of the former first lady and their families. Mr Mnangagwa has warned against "vengeful retribution".