England surrendered tamely and quickly as Australia took six wickets in under a session to go 2-0 up in the Ashes with a 120-run victory.
Steve Smith's men were right back on their game as the Adelaide Oval sunshine came out to play at last on the final afternoon, Josh Hazlewood wasting no time with the instant wickets of nightwatchman Chris Woakes and England captain Joe Root in successive overs.
After that, despite the best efforts of Jonny Bairstow, the rest was just details as England were all out for 233 after being set 354 to level the series wiuth Mitchell Strac finishing with five for 88.
Terrible start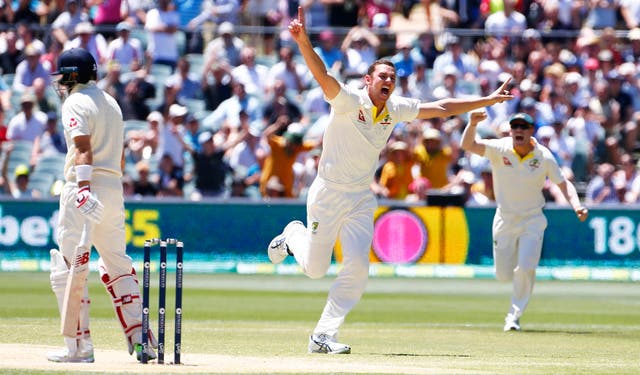 England's supporters arrived in a state of cautious and nervy optimism. It did not last long, though, with Woakes and Root gone in the blink of an eye to fine bowling from Hazlewood. At 177 for six, in under 10 minutes, a feasible long shot had become a no-hoper.
Delivery of the day
Hazlewood's second ball of the day would have taken some playing by any frontline batsman. It is hard to see what Woakes could have done any different.
Not too little, just too late
England's performance with bat and ball here between tea on day three and stumps on day four was exemplary. They had left themselves far too much to do, though, and are struggling to sustain a competitive level for the duration of a Test.
Stat of the day
0 – When Root and Woakes both failed to add to their overnight scores, England were on the fast track to defeat.
Tweet of the day
What next?
England must try to bottle some of what they did here, and ditch the rest, to try to somehow keep possession of the urn in Perth.